The Assurant Way, Our Values,
and Code Purpose
At Assurant, our culture is the secret of our success. We do things differently here. We call it The Assurant Way. The four dimensions of The Assurant Way describe the things that make our company culture unique:
Our purpose

.

Our values

.

Our commitments

. and

Our vision

.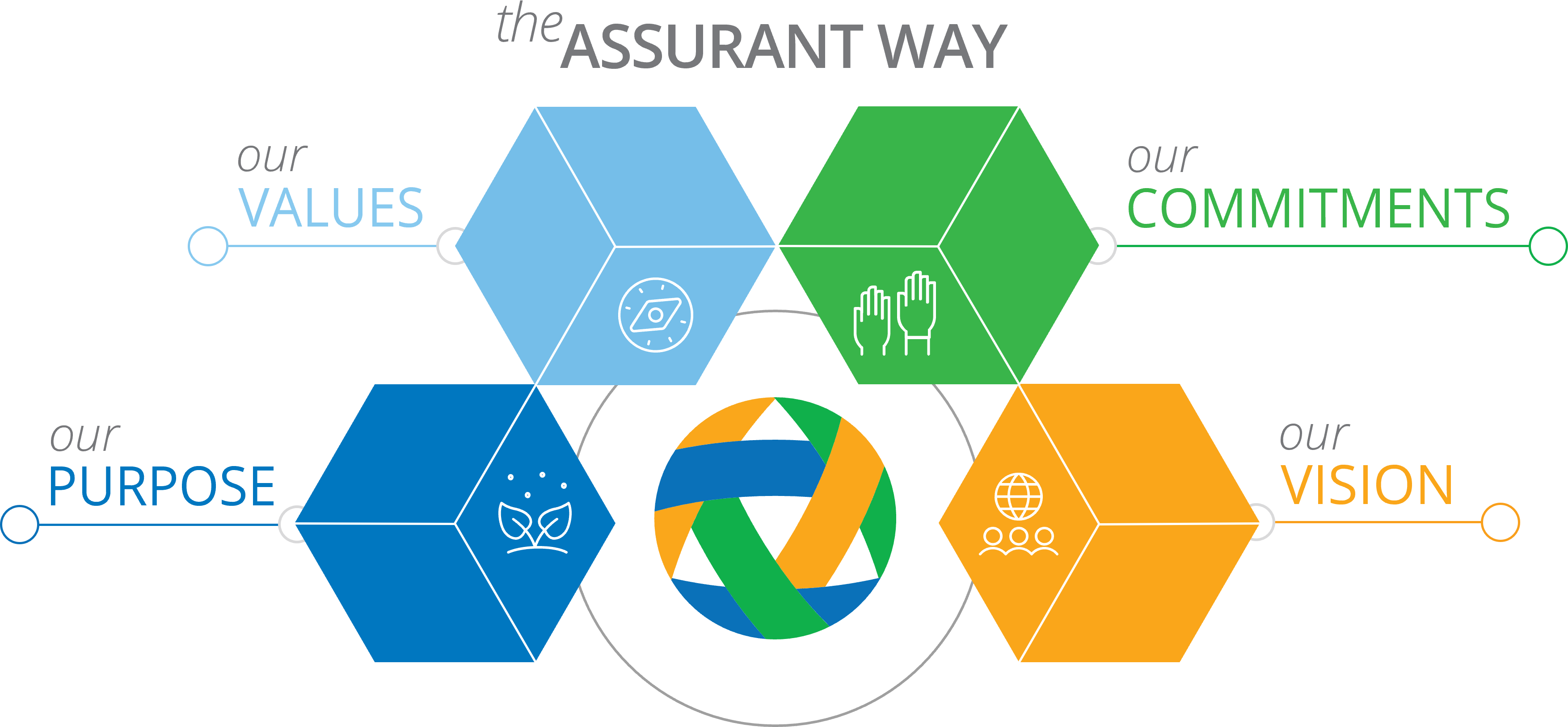 Our Uncompromising Values
---
Our values guide the way we support our customers and work with one another. They're the lasting principles that we use to do business with integrity and win trust every day.
We seek practical solutions to keep life running smoothly for the clients and consumers we serve.
We treat others with empathy and respect. We're honest and transparent. We act with the utmost integrity and are committed to doing the right thing.
We're never satisfied with the status quo. We seek diverse perspectives and thrive on challenge. We believe there's always a way to build upon our successes.
We approach each opportunity with a sense of urgency and act decisively to deliver results that exceed expectations.
All who work for, or on behalf of, Assurant, Inc. and/or its subsidiaries (collectively "Assurant") as well as Assurant's officers and Directors have a duty to demonstrate the highest standards of business conduct and integrity. Our Code of Business Conduct and Ethics, also known as our "Code", "Code of Conduct", or "Code of Ethics" applies to Assurant's employees, officers and directors. All employees and Directors are required to certify at hire and annually thereafter that they have reviewed, understand and will comply with the Code as well as complete Code training. In general, consultants, local representatives, agents and contract or temporary workers are expected to follow the underlying principles of the Code as well as Assurant's Supplier Code of Conduct.

Throughout the Code, you'll find information, links to definitions of key terms, Q&As and links to related policies to guide you in making ethical decisions. What you won't find is the answer to every question you may face at work or every related policy. In the absence of a specific policy, you have a responsibility to use good judgment, comply with the spirit of the Code and seek help from your manager, a member of the People Organization or the Ethics Office if you have any questions or concerns.
Administration of the Code of Business Conduct and Ethics
---
Our Code, which is administered by the Ethics Office, is a living document that should serve as our first-line resource for ethical decision-making. Note that the Code and some related documents have been translated into those languages applicable to Assurant's operations.
Waivers Granted in Exceptional Circumstances
---
The Ethics Office may provide interpretations of the Code, in consultation with the Global Chief Ethics and Compliance Officer or the Chief Legal Officer, where appropriate. Waivers or exceptions to the Code will be granted only under exceptional circumstances. All waivers or exceptions require prior written approval by your manager and the Global Chief Ethics and Compliance Officer. Only the Assurant Board of Directors or a committee of the Board of Directors may grant waivers of compliance with the Code to the directors or executive officers. Any such waivers that are granted will be disclosed promptly and in accordance with all applicable laws and regulations, including those of the Securities and Exchange Commission and the New York Stock Exchange. The Code doesn't create any rights to continued employment and isn't an employment contract.
Compliance With the Law and Treating Customers Fairly
---
Assurant operates in a highly regulated environment. The Code applies to all countries where the company does business to the extent permissible by laws and regulations. Being aware of, and complying with, the laws and regulations under which we operate is not only a critical part of our business, but also fundamental to who we are. Remember that it is important to comply with not just the letter, but also the spirit and intent, of the law. Violating the law or engaging in unfair, deceptive and abusive acts or practices may weaken customer or general public confidence and put our reputation at risk, and can result in regulator criticism, legal action, fines and penalties, and other negative repercussions for Assurant.

If any portion of the Code or Assurant policies are inconsistent with any law and/or regulation, such law and/or regulation shall prevail. As an employee or director, you're expected to know and comply with the laws and regulations that apply to you and, if you ever have questions, contact your Compliance Officer, the Ethics Office or a member of the People Organization for help. Violations of Assurant policy, this Code, or the law may result in appropriate disciplinary action, up to and including termination.
You are Empowered. You can deliver great customer and employee experiences, knowing that Assurant supports you in doing the right thing and conducting business with integrity. 
You Have Responsibility
You play a critical role in ensuring that Assurant is a great place to work and in protecting our culture, our reputation, and our brand.
 
You Have a Voice
When you believe something isn't right, you can speak up and share your concerns, knowing that Assurant wants to hear them and doesn't tolerate retaliation against employees.
Frequently Asked Questions
---
In the absence of a specific policy, you are responsible for using good judgment and complying with the spirit of this Code. If you have any questions or concerns, please ask your manager, a member of the People Organization or the Ethics Office for help.
When in Doubt - Speak Up
If you have questions or concerns, let your manager, the People Organization or the Ethics Office know.
Speak Up